Last week Gartner published its annual 'Magic Quadrant' for BI and Analytics platforms. Interestingly, we noted lots of movement and a lot of white space. Not great news for BI vendors? So what is going on?
I'm an avid follower of the Gartner BI magic quadrant, primarily because I've always been a fan of analytics, insight, business discovery and advanced analytics. I've been watching this for around 7 years, which is the time I've spent in the data / BI space.
A very perceptible change occurred last year.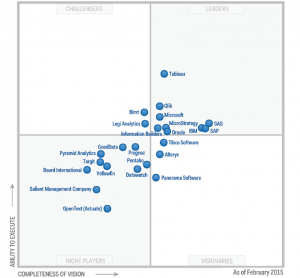 Gartner's 2015 BI Magic Quadrant appeared to have moved many of the vendors towards the 'cross hairs' in the middle of the Quadrant.
'Leaders' were pushed way back to the centre (with the exception of Tableau), Challengers were barely in their quadrant (same for Visionaries) and the rest were being clustered into the 'Niche' category.
There was a lot of empty, white space and a notable concentration of vendors around the centre. What was Gartner preparing us for?
This year, it's answered the question.
Now only three vendors qualify as Leaders (there were nine in 2015), there are no Challengers, some technologies have moved into the Visionary quadrant and there's some 'movement' with Niche operators.
We've some vendors previously considered challengers by Gartner, now back down in the Visionary quadrant (what went wrong Birst? Logi Analytics?)
Generally Gartner has moved most vendors 'south'. So you'd conclude that Gartner is not impressed with vendors' ability to execute, year on year.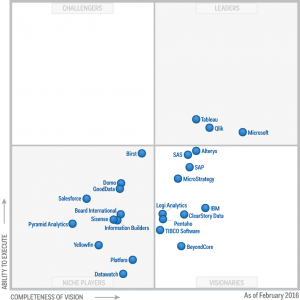 Why is that? In its executive summary, Gartner suggests that the 'tipping point' has arrived.
The tipping point being the BI industry's need to accept that the business user needs to be more autonomous, and that most tools don't offer this (or if they do, they struggle to execute)
It seems that Gartner has penalized those vendors who are not adapting to this requirement.
Now, in 2016, Gartner calls for a 'Change of perspective' in the industry. That is, a focus on the business user need.
It was said that to become a Leader one arrives as a Niche player and then moves in a 'backwards Z' – to become a visionary, then challenger, then leader. I don't buy that in every case and it's less relevant today than it was in 2009.
However, it does bring to question the whole notion of 'self service'. Gartner has been stating the importance of this in past years and is clearly unimpressed with vendor platitudes about how easy it is for the business user to build powerful visualisations.
Gartner obviously believes there's a gap between the capability powerful BI tools promise the business user , and the reality, which is that often the project will end up back in IT and / or require training, support and allied services just to get working. Don't forget it's own research from around 2012 which stated fewer than 30% of all BI projects successfully conclude. Remember that?!
Gartner is clearly awaiting the arrival of a new, highly disruptive, consumerised BI technology which will sweep away all before it. A fully connectable, mobile, cloud and app-based tool so powerful, it is simplicity itself to use, requiring nothing more than a few gestures to build 'single versions of the truth' within seconds. Agility, insight and decision making power handed to any user within an organization in any department. Think 'Apple Business Intelligence' and you're on your way there.
As ever, however, none of this amazing, disruptive, super-powerful new technology will work without solid, reliable data fuelling it.
It could still mean fewer than 30% of BI projects successfully conclude. And this, friends, hasn't ever changed – regardless of the advancements made in the BI sector ...
... it's still all about the data...